For children like Isaac having access to ear defenders and a fidget enables him to come to church. Simple tools that help decrease the noise when it's overwhelming and give something to hold to help with focusing make a big difference to accessibility.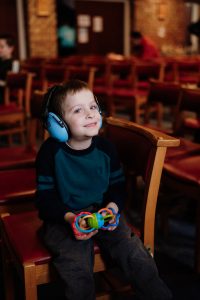 We want to celebrate all that New Wine United are doing for children like Isaac, enabling everyone to be seen, heard and able to belong. Growing Hope recently awarded New Wine United a Gold level Accessibility Award, for amazing provision across a range of additional needs for both children and adults. Jess Thompson, Head of Accessible Church Ministry says:
"We believe that God's kingdom is for everybody. By ensuring that what we offer is accessible to those with additional needs, we ensure that everyone can hear the good news of Jesus. This could be by providing a practical resource, some extra time and space for an individual to settle in and feel comfortable, or by getting alongside a parent with some prayer. This affects not only the family and individuals that attend United, but also the teams that serve, and the impact is that people want to make their local church settings more accessible from what they have been modelled at United."
At Growing Hope, we appreciate that there are all kinds of barriers that churches may be unaware of that affect members of their community, which is why we love working with New Wine who can show churches easy steps to be more accessible. Some of the barriers churches often face may be physical barriers such as narrow aisles, sensory barriers such as loud crowded rooms, or barriers that may affect someone's independent movement such as text-only signage. We launched our Accessibility Awards to help support churches through these challenges and barriers.
Through our Accessibility Award, we work alongside churches to celebrate what they are already doing well, but also to provide practical steps to support more of their community, and welcome others in.  Simple steps such as providing fidgets (even a pipe cleaner will do!), giving movement breaks throughout the service, and providing a written and verbal outline of what the service can look like each week can provide great support to those in the congregation who may have additional needs, and are also great tools for welcoming newcomers into the church family. These tools show people that they are welcome, that they are seen, and that this is a family where people will support them rather than isolate them. When a church receives an Accessibility Award, we also provide a plaque and certificate so that they can show their wider community that they can be welcomed there.
New Wine wanted to carry out the award to look at accessibility widely, but especially the provision at the United gathering. There are five categories to the Growing Hope Accessibility Award:
Everyone is welcome regardless of their ability or need
Both New Wine and Growing Hope have a real vision to see everyone welcomed into community. Anyone accessing New Wine for the first time can see that anyone can come along, and there are opportunities to both be a part of the main sessions, and to have an accessibility focus through the Access stream. Within United the welcome team greet everyone and do their best to ensure their needs are met. We recommend that all teams are trained in different methods of communication for those with additional needs such as using signs or pictures.
Presence of an Accessibility Coordinator
New Wine had already appointed Jess Thompson as 'Head of Accessible Church Ministry' which is a statement of investment in accessibility. Jess is able to help inform all venues in how to improve accessibility as well as excellent provision through the Our Place, Access and Breathe venues. Having somebody whose sole responsibility is to focus on accessibility ensures that there is a smooth pathway for anyone to raise any specific needs they may have to access different areas, as well as developing strategies which pre-empt growth of the church, making provisions for needs that are not yet in the church.
Physical Access
Being able to independently move throughout the venue and access different areas is hugely important for individuals' dignity whether at a national festival or within the church building you call home. New Wine provides level access to all their venues and has accessible camping options as well. As part of the Accessibility Award audit report, we will look at government document M to ensure physical provision meets national standards.
Multisensory provision
We know that God created us, and in doing so He developed our senses: sight, hearing, taste, touch, balance, body awareness and interoception. He has taught us to see, hear, go etc. There is a growing awareness of sensory needs within the church; an awareness that some people have sensory sensitivities, and of how well we can use different senses to fully engage our focus.
Growing Hope believe that all ministries, both children and adult focused, should encompass a multisensory approach, whether this is using an object to illustrate a story which everyone can take home, or creating sounds to go along with a story.
New Wine really encompass this across their children's venue and provide better access to the main sessions and more through incorporating BSL and Braille resources.
Preparation for individuals who have additional needs.
The preparation that churches do in order to support people with additional needs can have a huge impact. Some resources that can be helpful to include on your website are:
an easy read guide on 'coming to church' shows aspects such as what to expect when you get there.
a list of resources that are available for those who struggle to engage or have a visual/hearing impairment.
An expected schedule of the service.
All of these resources signpost to newcomers that they are already part of the family even before arriving, and can enable them to come to church with a sense of comfort, ready to engage, rather than nervous that they won't be able to cope. New Wine provide resources prior to the event which include contact details for those who may want to discuss their needs prior to arriving at the event. They also include visual timetables in their children's sessions, enabling all children to transition between activities well and give them a sense of expectation for the session which will help them to engage with each of the activities.
            Following this report, we celebrated all that New Wine are doing well and also provided recommendations for them to develop in their accessibility before awarding them a Gold Accessibility Award. You may spot their Award medal on social media, both to celebrate their accessibility, and to show people that New Wine are continuously working to become more accessible and invite more people in.
Do you want your church to be somewhere where everyone can be seen, heard and able to belong? Find out more: growinghope.org.uk/award
Author Bio:
Jennie Prentice, Network Development Manager, Growing Hope. Growing Hope [link to www.growinghope.org.uk] is a charity set up by Naomi Graham, previous Head of Accessible Church Ministry.