New Wine Chair of Trustees Announcement- 12th July 2023
We are pleased to announce Jill Duff as the new Chair of Trustees for the New Wine Trust. Jill takes up the baton from John Coles who has served as chair (for a second term) since 2016, after earlier serving 9 years as full time New Wine National Leader.
Dr Jill Duff is the Anglican Bishop of Lancaster, in the Diocese of Blackburn in her home county of Lancashire. She is a sought-after speaker, passionate about communicating the good news of Jesus in everyday language.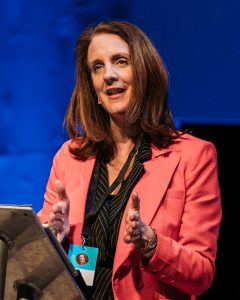 Jill has served as a New Wine Trustee since 2018. Her appointment was the unanimous decision of the New Wine Trustees in February, succeeding John Coles on 20th June.
She has been involved with New Wine for over twenty years, since she first served on the Boulder Gang team. As a vicar's wife with two young boys, living in Widnes, New Wine United became an annual trip which brought life to the family and helped catalyse the turnaround of the church. "The New Wine family is much more than the United gathering, but I will never forget arriving at Shepton Mallet with a raggle-taggle band from church who hadn't had a holiday in years, never mind camped in a field. When one woman saw the tents and caravans as far as the eye could see, she exclaimed: 'Gosh! There must be a God!"
Jill said: "I am delighted to be invited to become the Chair of New Wine England in this new season. I love that through prayer, networking, and summer conferences, New Wine serves churches of all sizes, ages and flavours, across a rich breadth of denominations, in a wide range of demographics and geography, with a simple vision of local churches changing nations, through His Spirit and Word. I look forward to working with our stellar Trustees, with Rich Johnson, our new National Leader as he builds the national leadership team, and with Pete Goldring, our Director of Operations and the marvellous staff team who enable New Wine to bring vitality throughout the year. A key role as Chair is both to support and challenge staff, leaders and wider organisation to ensure New Wine is always safe, well-run, reflecting the love of Jesus, and keeping in step with his Spirit."
"After the challenges and pruning of the pandemic, the heart-warming encouragement of our National Leadership Conference in Harrogate in February, I find myself praying Isaiah 54.2 over our New Wine family: "Enlarge the place of your tent, stretch your tent curtains wide, do not hold back; lengthen your cords, strengthen your stakes". May New Wine enable many lost sons and daughters from all backgrounds across our nation to find Jesus, who longs for them to come home."
"We owe an immense debt of gratitude to John Coles for his service and vision over decades. With David Pytches before him, he truly deserves the epitaph of 'grandfather' of New Wine, and we are delighted he will continue to serve behind the scenes with Anne as Ambassadors of New Wine."
John Coles writes: "I am delighted that Jill is taking on the role of Chair of New Wine. Her faith, prayerfulness, dependence on the Spirit, biblically based inspirational preaching, training of leaders and her commitment to mission have all been well demonstrated over many years. Her vision of beacons of Jesus' love, light and truth all over the nation is infectious, and at the same time, her experience as a church leader and Bishop means she has a great understanding of process and good governance. I thank God for her, and her willingness to serve God and New Wine in this way."
Rich Johnson, New Wine National Leader, adds, "We are thrilled that Jill has agreed to be the next Chair of Trustees for New Wine.  Jill is New Wine through and through and will bring her vast experience of leadership and an apostolic and prophetic voice to the role in a season when we are being called to a new adventure together.  We all look forward to working with her over the coming years".
Jill has recently published her first book, Lighting the Beacons (SPCK, 2023). A PhD chemist by background, Jill worked in research and management in a multi-national oil company before being ordained in the Church of England. Until becoming a bishop, she served all her ministry in deprived areas of Liverpool Diocese. She was the founding director of St Mellitus North West – the first full-time ordination training college in the region for over forty years – where she taught mission, evangelism and New Testament. Before this, she planted a church in Liverpool City Centre and served as a school chaplain at Liverpool College (3-18). She is mum to two teenage boys and wife to Jeremy. She enjoys long walks, long lunches and writing fun lyrics to well-known songs as the occasion demands.